ENEL X E-MOBILITY REVOLUTION
Corporate storytelling with a hi-tech feel to lauch the mobility of tomorrow.
e-Mobility is Enel's new department that will give rise to 14,000 charging stations over the entire Italian territory by 2022. A project worth 300M requiring a presentation of equal bearing. Enel has charged us with designing the event and creating the content. Goal: convince media and international players that the sustainable revolution is both possible and financially viable.
We transformed the presentation into a rendezvous with the future. With an eye on Silicon Valley's keynotes, we created a visual narrative inspired by the event's light design. We set ourselves the goal of arousing public enthusiasm by conveying a new concept of mobility.
The logo animation is an energy highway that follows its course like a waterfall and ends its journey into the name of the event.
THE ANIMATION CREATES A HYBRID EFFECT BETWEEN THE CONCEPT OF A ROAD AND THE ANATOMY OF AN ELECTRIC CABLE.
Behind the initial animated logo design endeavour there is the seed of a much larger concept: in order to encourage the advent of electric mobility and put an end to the use of fossil fuels, we must change people's mentality and change their perceptions regarding commuting, roads, driving and environmental sustainability.
THE DYNAMIC PRESENTATION ACCOMPANIES SPEECHES BY KEY PERSONALITIES.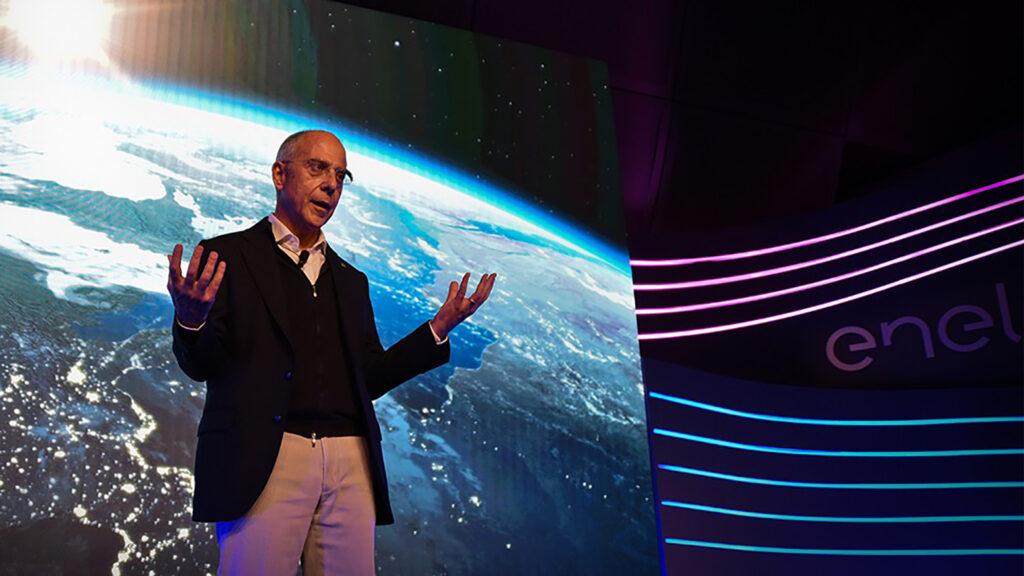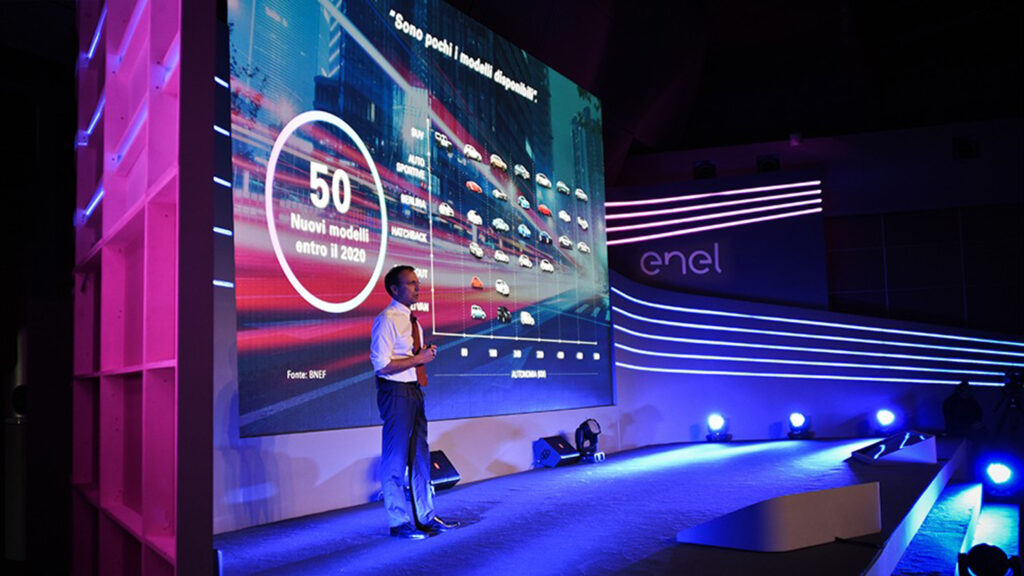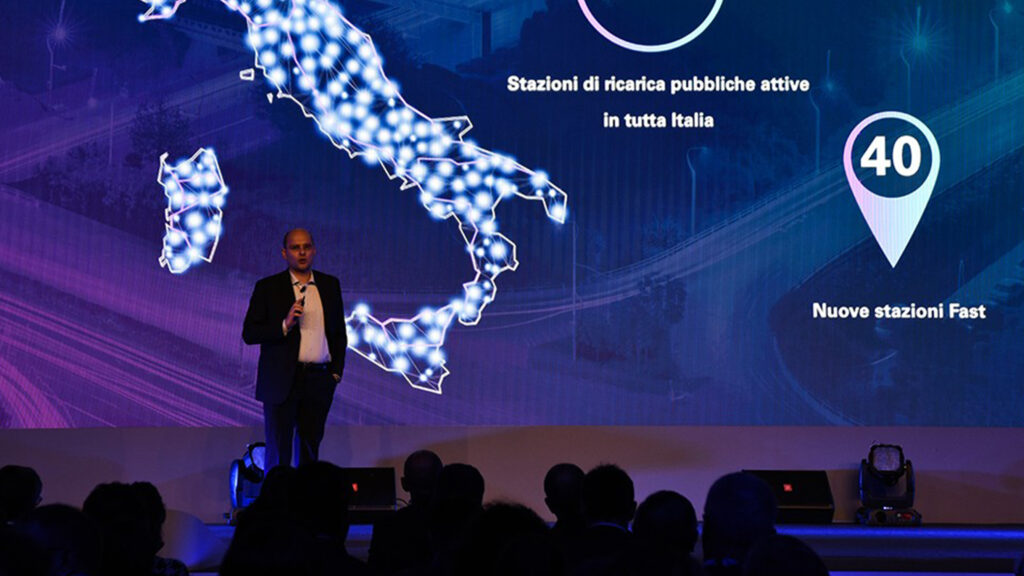 WE PERSONALIZED THE INFOGRAPHIC DESIGN BY ADDING THE USE OF COLOUR GRADIENTS, THIS YEAR'S TECH TREND.
The presentation contains 40 slides each representing an enterprising page of the e-Mobility project. The dynamic effect of the document projected onto an imposing screenwall creates a strong connection with the spectator who can engage with the storyline regardless of the tecnical details.
THE E-MOBILITY MESSAGE BECOMES A BREATHTAKING JOURNEY WHERE IMAGES AND WORDS CREATE INTERTWINED SENSATIONS.
IN JUST OVER A MINUTE WE COVER THE PRESENT AND THE FUTURE OF MOBILITY, PLACING THE ACCENT ON ALL THE BENEFITS OF SUSTAINABILITY.
With the emotional video we wished to place the spectator before an important and completely personal choice. To do so we left the motion graphics video with subtitles and without voice over. In its place we used a refined and concise sound design which allows for a complete involvement in the storyline.
SPEAKING OF SUSTAINABILITY IS NOT SUFFICIENT. WE MUST ENCOURAGE THE WORLD TO IMAGINE AN ALTERNATIVE FUTURE.
WE RECREATED A DAY IN THE LIFE OF A WOMAN WHO DISCOVERS ALL THE BENEFITS OF DRIVING AN ELECTRIC VEHICLE.
How will our daily lives change at the wheel of an e-car? The corporate video presentation was the answer which we represented in an animated video production which, whilst telling the credible story of a woman and her grandson, mixes motion graphics and footage to highlight the user-friendly technology e-Mobility offers.
THE SUCCESS OF THE EVENT GENERATED A HUGE BUZZ. THE FUTURE OF MOBILITY IN ITALY IS GREENER THAN EVER BEFORE.
Creative Executive Director & Copywriter
Paola Caridi, Andrea Poggioli
Graphic Design
Andrea Simone
Project Manager
Paola Caridi
Animation
Bartosz Druszcz, Michela de Spagnolis
Filmaker
Gianni Ferrara
Production Assistant
Cecilia Fattorini
Art Direction
Event Concept & Design
Video in motion graphic 3D & 2D
Presentazioni interattive
Contenuti video
Project management