ACEA BUSINESS PLAN
DIGITAL EVENT
Revolutionize the world of corporate events
with a new live digital experience.
Every year Acea transmits its Business Plan to investors, analysts and media through a physical event with data presentation, Q&A with investors, interactions with the press and speech on the future of the company. This year the restrictions imposed by the COVID19 pandemic have led to a radical reconsideration of the world of events, especially when, as in this case, they cannot be postponed. The opportunity has thus arisen to experiment with new solutions.
We rethought the event entirely online, 100% digital and live streaming thanks to The Bridge, our multi-purpose platform for digital events. The result is an advanced interactive experience with an impressive visual identity and dual-language content. We created a Covid-proof studio and a 360° video stage. In addition, the "Augmented Slides" were developed as a new presentation mode for speakers.
AN INNOVATIVE PROJECT THAT UNLEASHES THE REAL POTENTIAL OF DIGITAL CORPORATE EVENTS.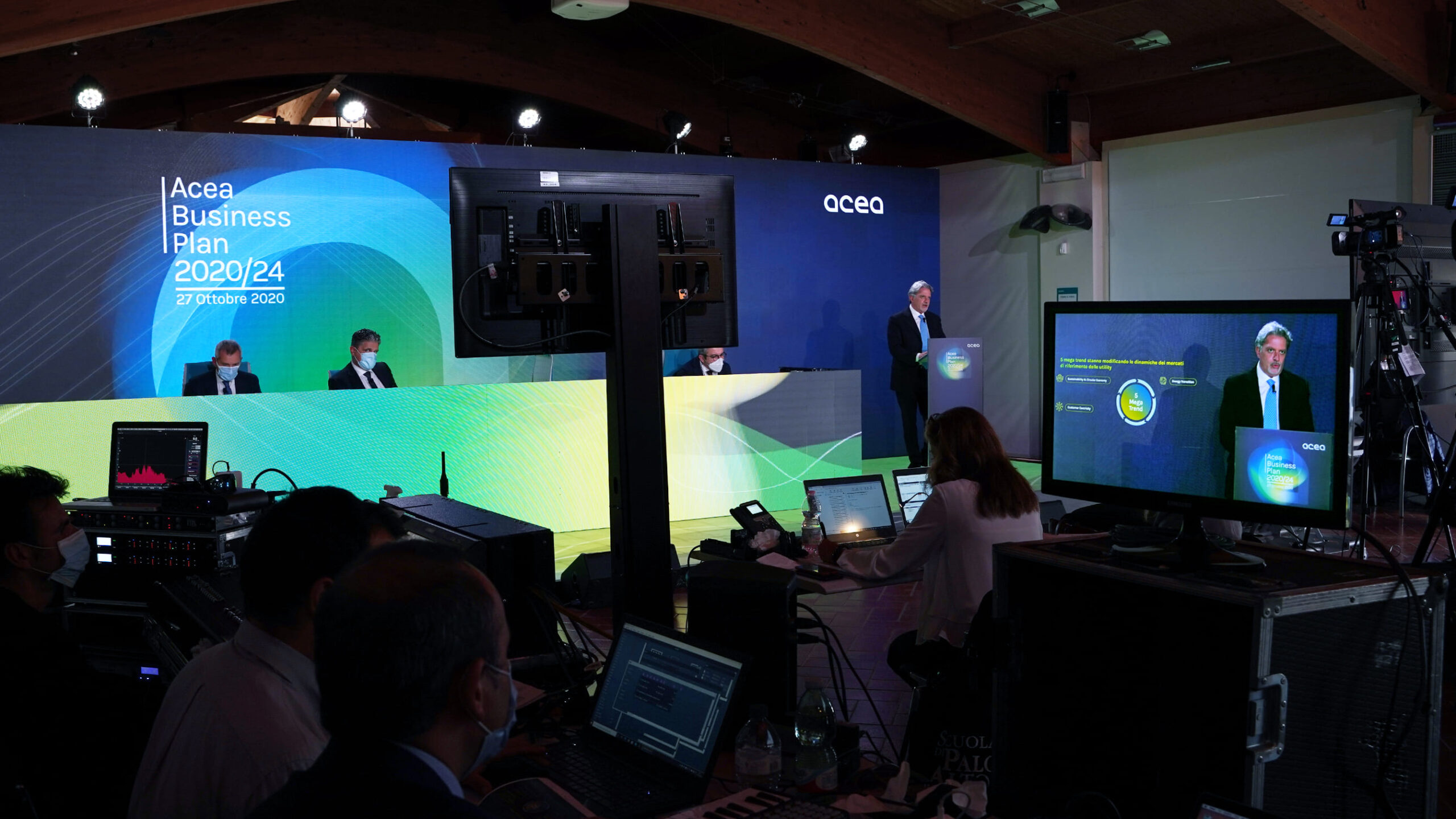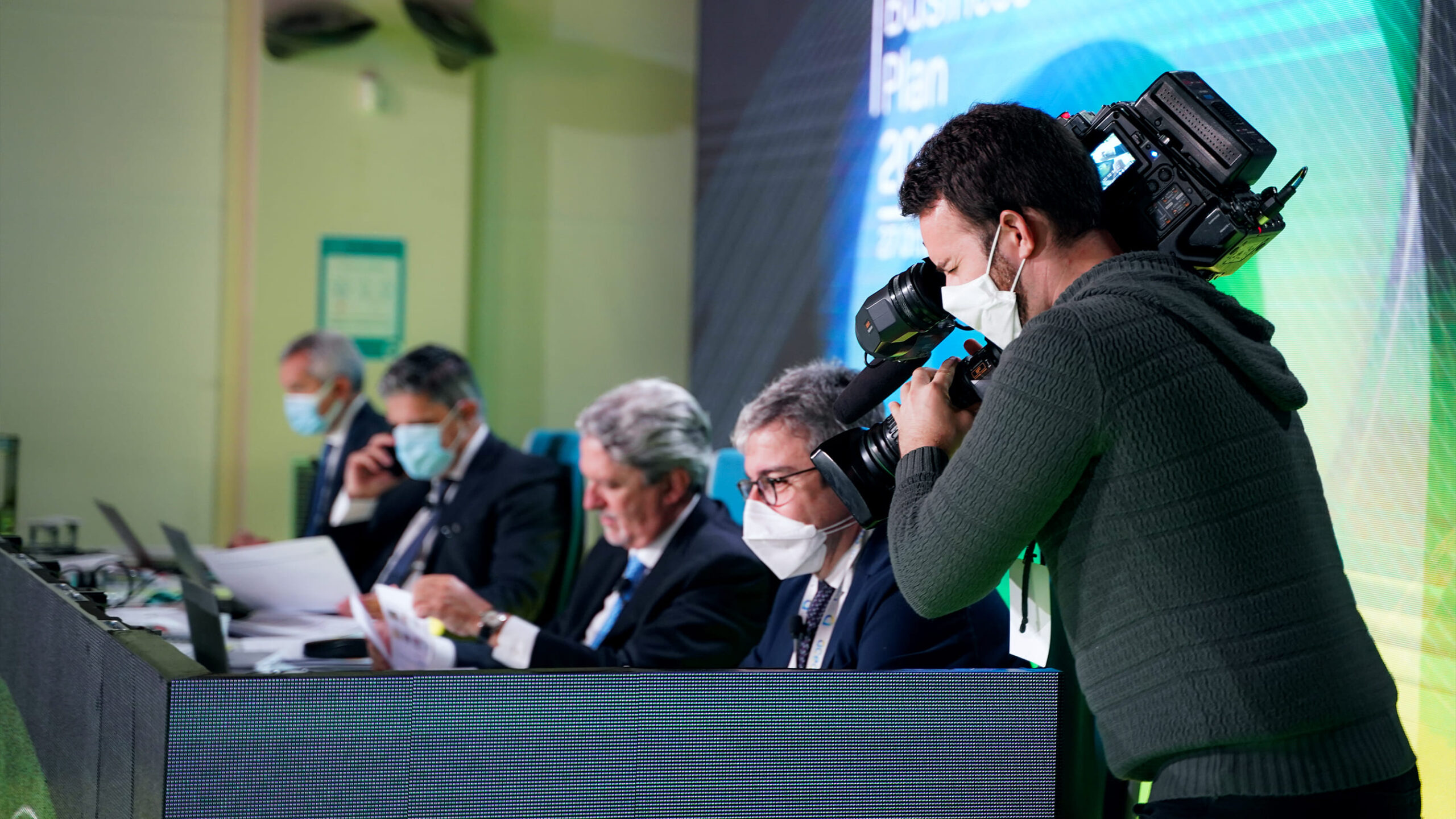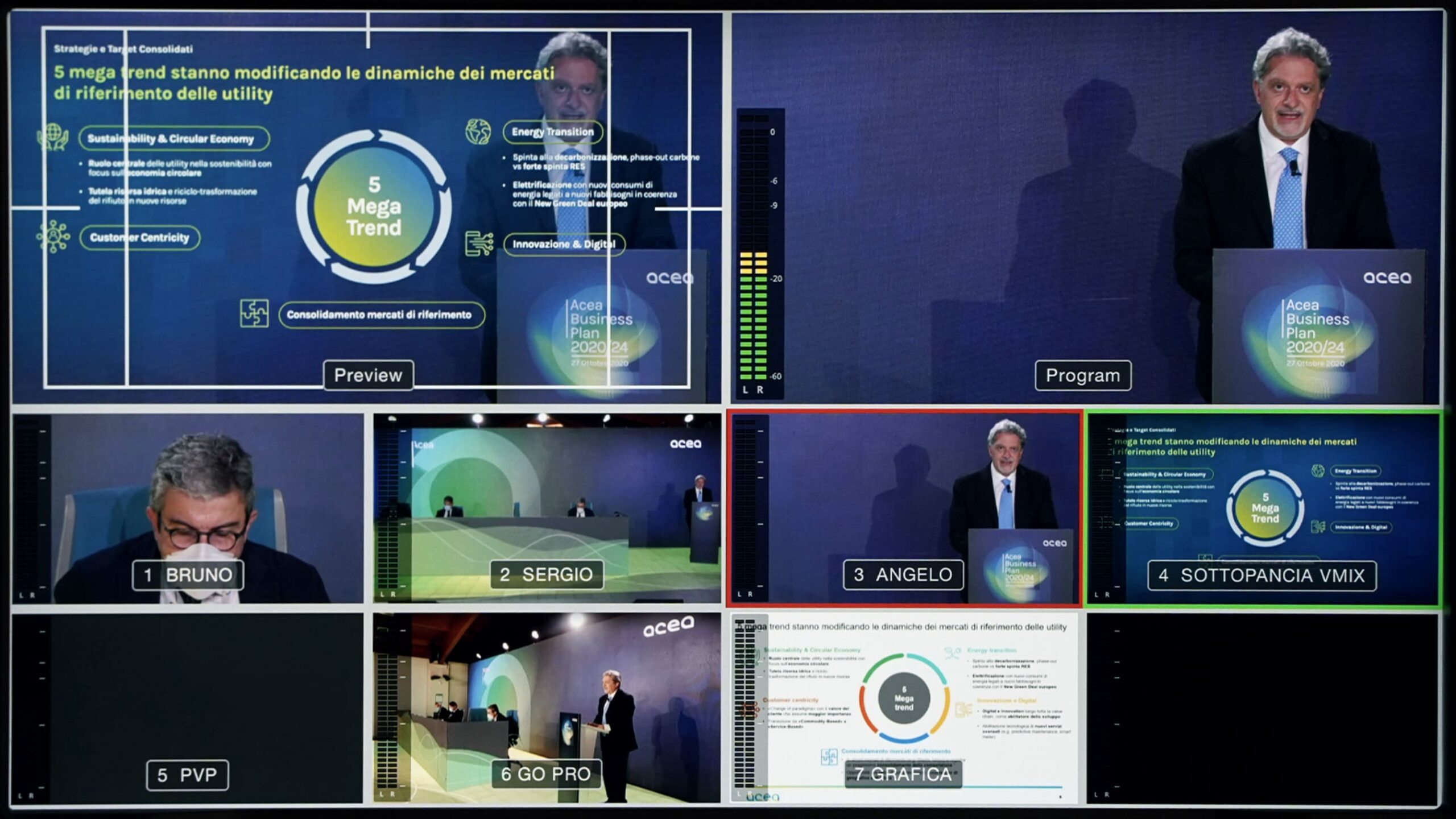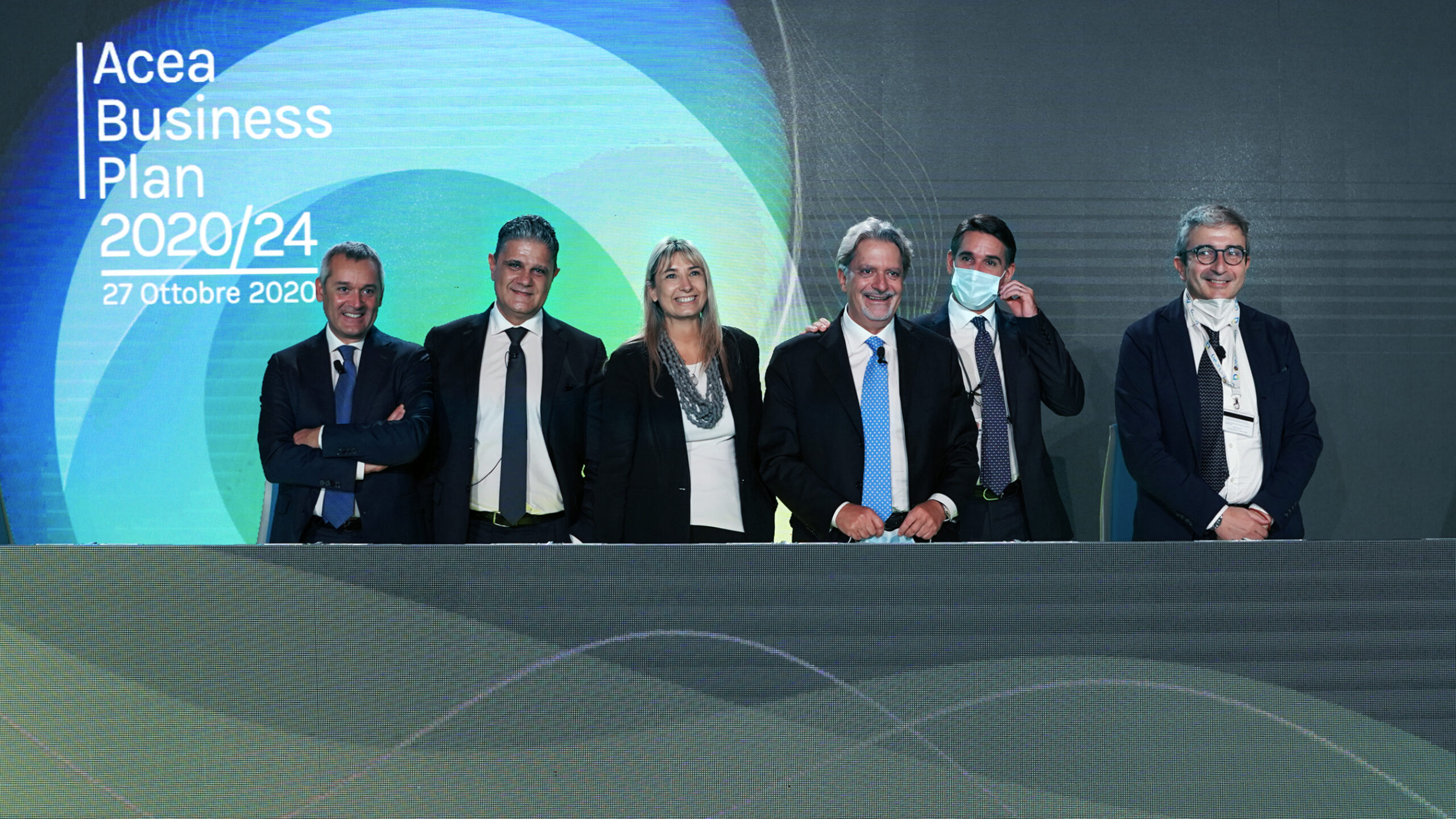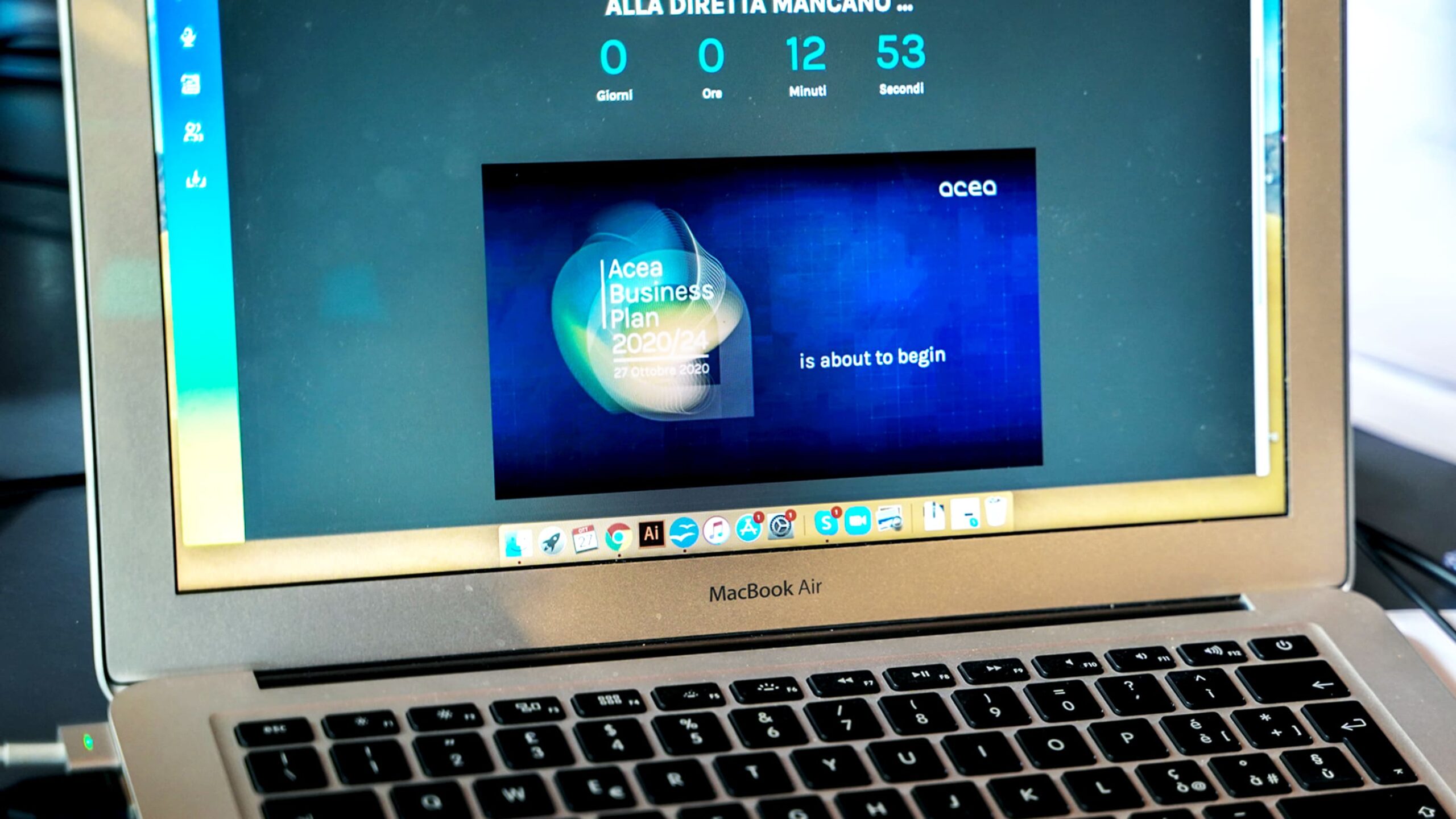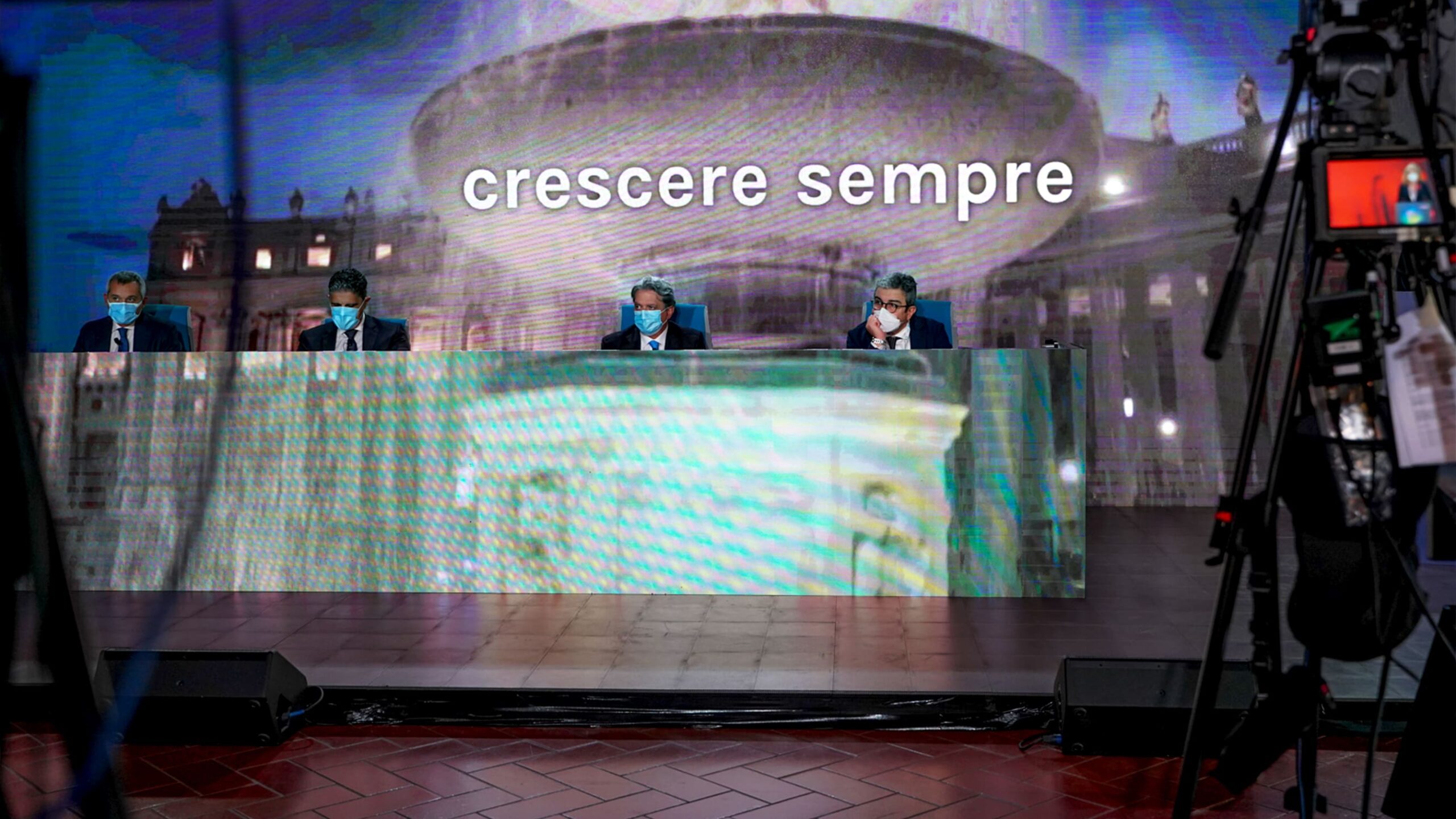 WITH THE BRIDGE WE REPROGRAMMED THE FATE OF CORPORATE EVENTS.
Our platform is a digital ecosystem that can accommodate all the tools needed for an online event. The perfect fusion between live streaming and TV directing, but also advanced and interactive content able to engage users and give a unique experience.
With over 25 connected countries and a live stream capable of reaching a worldwide audience, the digital experience we have created for ACEA opens the door to new opportunities: be connected with your audience in real time and create a flow of content and endless interactions.
THE REAL TIME "AUGMENTED SLIDES" ARE THE REAL GAME CHANGER OF THE WORLD OF CORPORATE EVENTS.
The "Augmented Slides" represent the absolute avant-garde in terms of presentation techniques. Data, graphs and insights wave goodbye to the old Powerpoint to create a WOW effect in which the slides are animated and merged with the presenter. The result is an impressive visual continuity between speech and chart.
With an experimental yet solid mix of technology, design and engagement dynamics we have demonstrated how the future of corporate events can and must learn the language of digital to create new and truly innovative multichannel experiences.
Managing Directors
Marco Venuti
Matteo Della Porta
Account Manager
Ornella Fabretti
Creative Directors
Giorgio Tiranti
Michele Savino
Art Directors
Stanislao Migliorino
Andrea Simone
Regia
Giorgio Tiranti
Copywriting
Andrea Poggioli
Sofia Francesca Micciché
Video&Motion Design
Giandomenico Michilin
Bartosz Druszcz
Eve Studio
Sound
Gianmarco Jandolo
Set, infrastruttura tecnica e audio/video
AV Set
Web Development
Kromin
Backstage
Roberto Magnanini
Concept&Strategy
Event Identity
Event Planning
Copywriting & Storytelling
Film & Motion Graphic
Interiors & Architecture